COVID-19. Important Information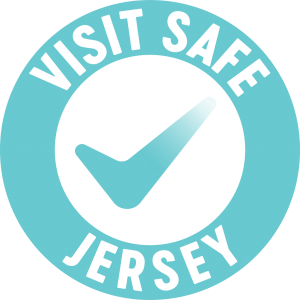 Help keep our community safe. Attendees are encouraged to take a lateral flow test no more than 24 hours before the event.
If you are experiencing any one symptom of COVID-19, you are strongly encouraged to stay at home.
Please do not join our activities if you are told to isolate yourself. Contact us to rebook.
Travellers to Jersey. Visitors -or islanders who have recently returned- to Jersey must follow the current Government of Jersey Safer Travel Regulations.
When selecting the date of your activity, please allow sufficient time to get any PCR test results (if required). Follow the latest regulations.
With the concerns about COVID-19, we want to keep you up to date with the measure we are implementing. These will change so read the Government of Jersey advice pages for the latest guidance about how to stay safe and to protect others in our community.
For the protection of both yourself, others taking part and our community – Be Honest! Follow the Government of Jersey advice.
Our COVID-19 Measures
As an outdoor centre, we are in an excellent position to minimise the risk of infection as our activities allow plenty of space between everyone. The outdoors are recognised to be an ideal environment in which we can limit close contact and minimise the risk of infection.
If we need to cancel due to illness, we'll offer a refund or the opportunity for you to rebook.
Do not join the activity if you or anyone in your party is alerted to isolate.
Tell us before you arrive if you -or anyone in your party has;
Any COVID-19 symptoms.
Recently tested positive for COVID-19?
Is told to isolate.
You can cancel and get a refund (less £10 due to bank charges and administration) up to 24 hours before the activity or a full credit to rebook at a later date.
On the day of your activity, if you have COVID-19 symptoms or, are told to isolate, do not attend and inform us. We'll issue a credit so you can rebook. 
Follow the current physical distancing rules and ensure everyone in your party follows the latest COVID-19 and physical distancing rules.
Client Details & Contact Tracing
We require the names and contact details of everyone in your booking. Please help keep our community safe. The information may be critical for contact tracing if anyone taking part in the activity develops COVID-19.
Walks
We limit the total number of participants to maintain small groups.
Staff regularly take Lateral flow tests.
There is also the option to book the entire activity as a private event for just you and your friends.
We only accept bookings made in advance online.
Health and acceptance of risk paperwork are now completed when you book, so there is no need to share pens and paperwork on the day.
The outdoors is considered to be a low-risk environment. Our seabed walks allow you to walk with lots of physical distance across the seabed.
We have hand-sanitiser and hand-washing available at the beginning and end of your activity. Remember to regularly wash your hands, e.g. if you have returned from your car, been to a cafe to buy some water, etc.
If you need assistance when putting on equipment, we'll ask a member of your household to assist. If you need help from the guide, you'll be asked to turn your head away from them to reduce airborne transmission.
During the walk, we will maintain a physical distance.
Avoid gathering close together except with members of your household.
Gear and equipment, e.g. Wellington boots, walking poles, windproof jackets are washed after use.
Help all of us by maintaining physical distancing, following staff advice, and staying safe.
If our staff become ill or there is a change in the advice issued by the Government of Jersey; we will endeavour to give you as much notice as possible. You can decide if you want to rebook, receive a credit voucher or get a full refund.
Oyster Trails. Oyster tasting takes place in Seymour Pub. Please follow the current Covid-19 rules when indoors.
Any changes will be implemented based on Jersey's Safe Exit Framework.
Any changes will be implemented based on Jersey's Safe Exit Framework.
Walk dates are now uploaded to March 2022.
Gift vouchers are valid for two years.
You can call us on 07797853033.
Updated 3 December 2021
*Personal details collected for the government contact tracing scheme, will only be passed onto the Government of Jersey when requested to do so. The information collected will not be used for any other purpose such as marketing -unless you opt-in to receive our email newsletters-. The information requested by the contact tracing team is only used for contact tracing. If requested, it will be kept securely on Government of Jersey systems and processed in accordance with the Government of Jersey coronavirus (COVID-19): privacy notice.